Business After Hours (BAH) allows you a unique opportunity to host one of our signature networking events.  Well-received and well-attended, this event offers you the occasion to showcase your company to the Peoria Area business community. BAHs are from 4:30 - 6:30 pm on the 2nd Thursday of each month.
Business Before Hours (BBH) is another very popular event geared towards early birds with coffee, breakfast treats and networking. Business Before Hours is an excellent alternative for businesses that prefer not to have an after hours event. These are hosted on the 4th Tuesday of the month from 7:30 - 9:00 am.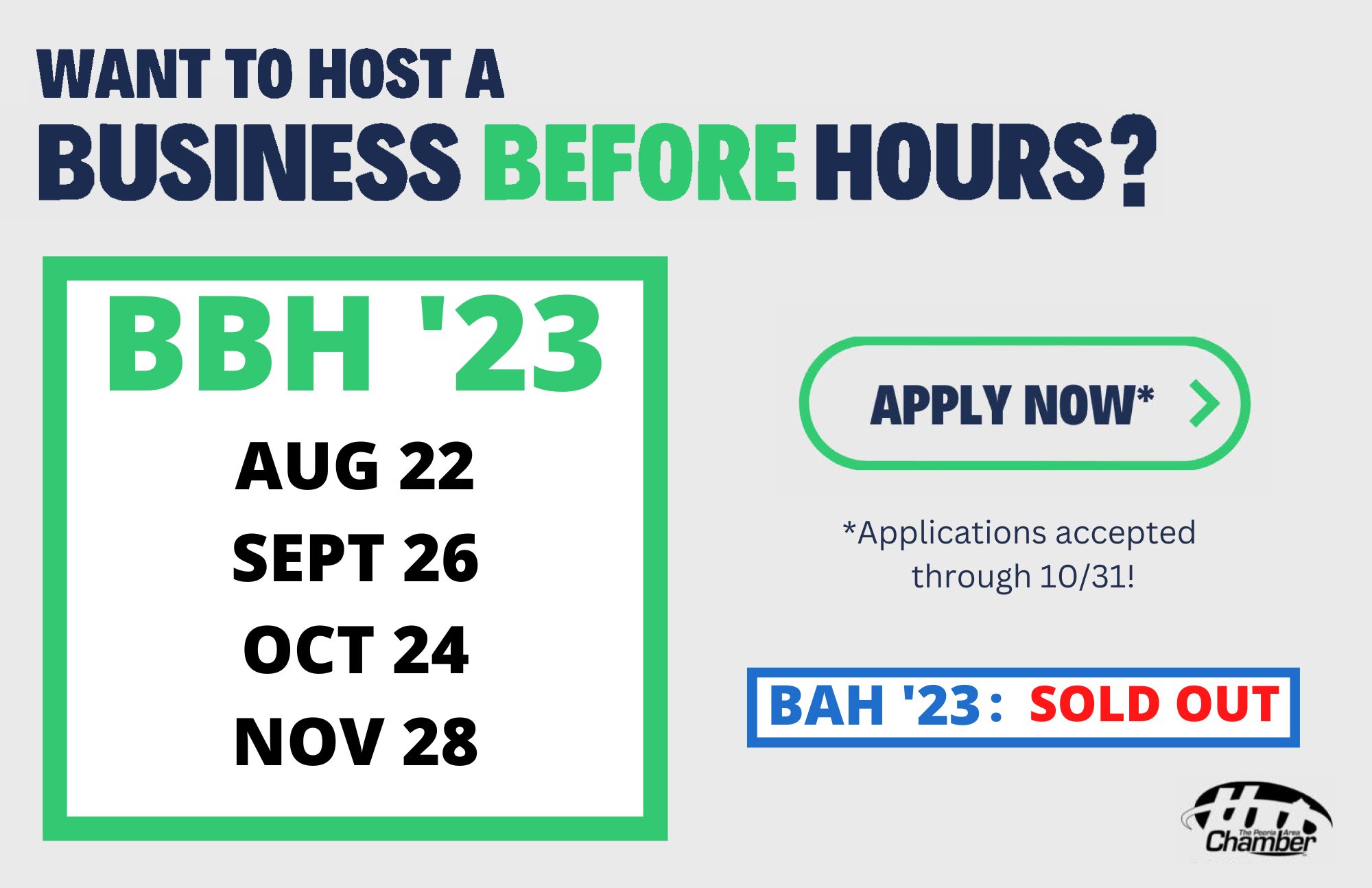 *Applications for 2023 Before Hours Events Open through October 31! Business After Hours spaces have been filled.
Spaces will be reserved on a first come, first serve basis.
Applicants will be notified of assignments once the Application Period closes.
Assignments will be confirmed once Host Agreement is completed & Payment is received.
2022 BUSINESS AFTER HOURS
January 13 - Craft 309 & Four Points by Sheraton
February 10 - Peoria Civic Center
March 10 - Barrack's Hospitality Group & Pringle Robotics
April 14 - Scottish Rite Theatre
May 12 - Peoria PlayHouse Children's Museum / Peoria Park District
June 9 - Peoria Production Solutions
July 14 - Heyl Royster
August 11 - First Mid Bank & Trust
September 8 - Widmer Interiors
October 13 - Pere Marquette
November 10 - RSM US LLP
December - No BAH
2022 BUSINESS BEFORE HOURS
January 25 - Elevate Trampoline Park
February 22 - Family House
March 22 - Oak Street Health
April 26 - National Youth Advocate Program
May 24 - Almost Home Kids - OSF Children's Hospital of Illinois
June 28 - Carpet Weavers
July 26 - INB
August 23 - University of Illinois College of Medicine
September 27 - Salvation Army
October 25 - South Side Mission
November - No BBH
December - No BBH
PACC Members are selected after applying to host either a Business Before Hours or a Business After Hours at various locations each month.