Member feedback helped drive the Peoria Area Chamber of Commerce toward a dues system based on the total number of employees.
We do offer additional services outside of the Benefits included with annual dues that can be purchased.
These items include Member Mailing Lists, Member Directories, E-Blasts, Advertising Opportunities in our Quarterly Chamber Report, PACC Calendar and more!
Contact Suzy Watkins via email:
swatkins@peoriachamber.org
or via phone: (309) 495-5927 with any questions you may have about Membership, Benefits or to purchase items.
Member Benefits Include
Notary Public Service by Appt.
Multiple subscriptions to bi-weekly chamber newsletter and quarterly print publication
Access to online educational programs & webinars with COGGNO
Unlimited use of Chamber conference rooms
Access to Illinois Chamber of Commerce webinars with special pricing
Energy & Natural Gas Co-op
Member-to-Member deals
Office Depot Advantage Program
Staples Program
Constant Contact
Members only pricing for events and programs
Outstanding Small Business Award eligibility
Monthly networking events
Chamber 101
Monthly Member Seminars
Ambassador Program
Host an Ambassador or YPGP activity
Business Brief /Press release submission for website and newsletter
Ribbon cutting
Chamber membership plaque
Use of Chamber web badge in advertising
Membership Business referrals
Access to government officials through meetings and Fly-Ins, etc.
Electronic membership directory- no emails or primary contact
Unlimited company representatives in Chamber database to receive communications
Access to members only section of website
Business listing on website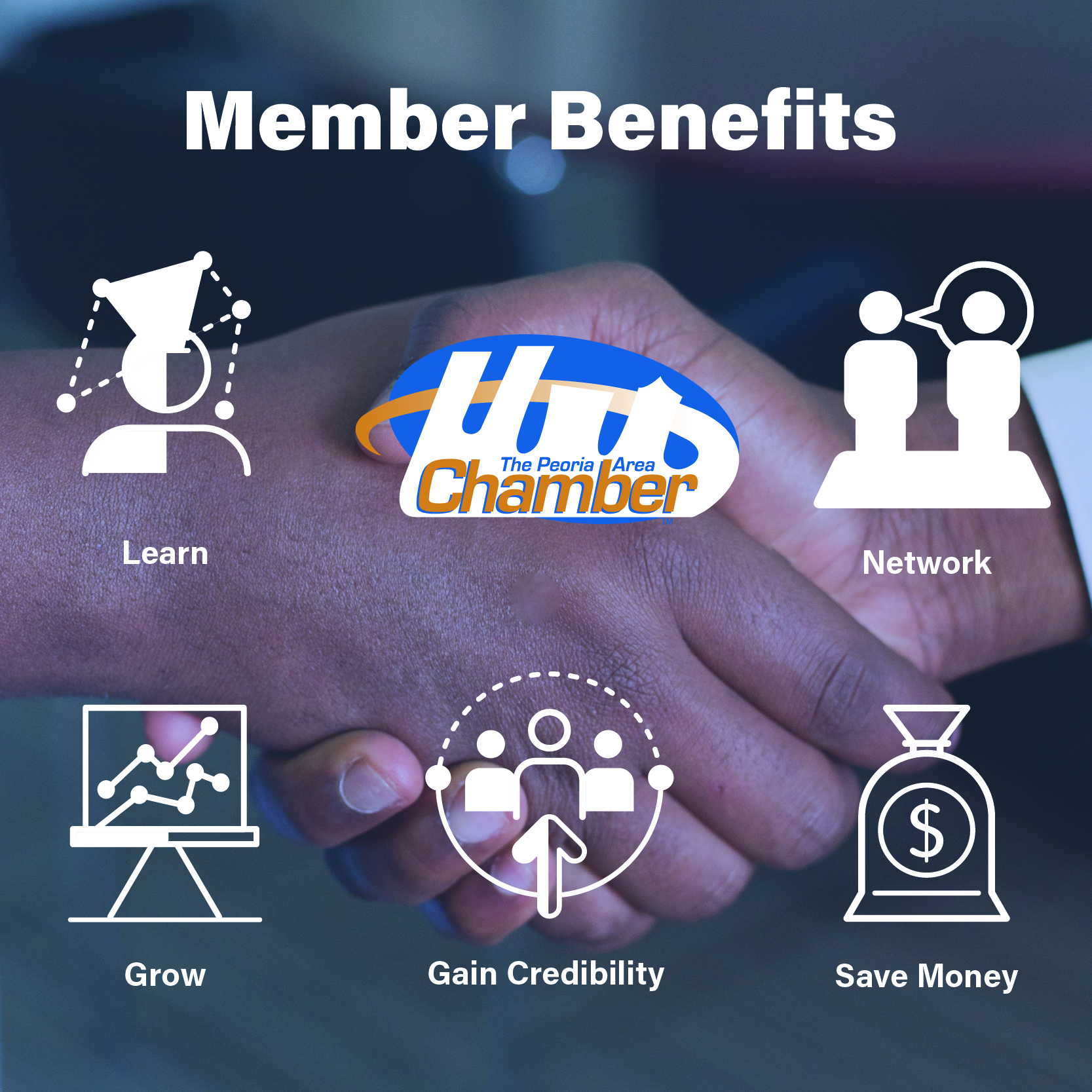 Additional Benefits for higher levels:
20% discount on advertising
Complimentary YPGP memberships or automatic corporate memberships
Enhanced website features
Complimentary key contact list/unlimited key contact lists-no emails
Chamber event and program discounts
Program and Event sponsorship
Special invitation to periodic special events (small roundtables, etc.)
Membership Fee Schedule
1-5 Full Time Employees: $360
6-20 Full Time Employees: $480
21-50 Full Time Employees: $660
51-100 Full Time Employees: $780
101-200 Full Time Employees: $1000
201-500 Full Time Employees: $1500
501-1000 Full Time Employees: $2000
Elite Chamber Memberships: Contact for Details
One-Time Fee:
$20 Application Fee
Full Time Employee Equivalent:
2 Part Time Employees = 1 Full Time Employee