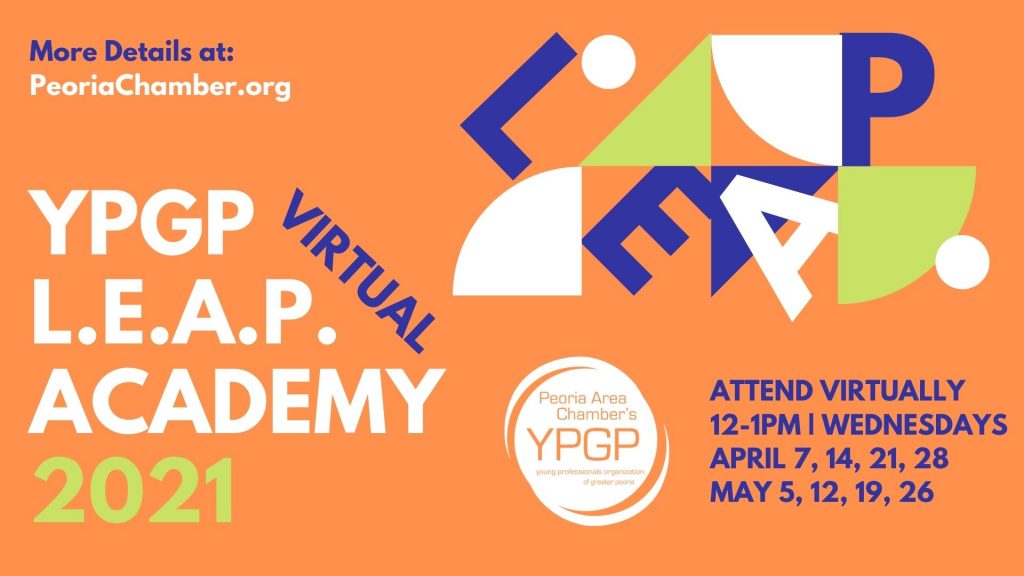 L.E.A.P 2021 Speakers Include:
Wednesday, April 7 | Becky Rossman, Peoria Community Against Violence
Wednesday, April 14 | Ken Allison, O-ONO Unlimited 
Wednesday, April 21 | Monica Hendrickson, Public Health Administrator
Wednesday, April 28 | Katie Kim, The Kim Group 
Wednesday, May 5 | Jodi Tarter, Par-a-Dice Hotel & Casino 
Wednesday, May 12 | Paul Leamon, Distillery Labs
Wednesday, May 19 | Dr. Chris Reynolds, Bradley University Athletics
Wednesday, May 26 | Joshua Gunn, President/CEO of Peoria Area Chamber of Commerce & CEO Council 
Tentative Agenda for Each Session
12:00 - 12:20 p.m. | Welcome, Introductions, and Ice Breaker
12:10 - 12:35 p.m. | Presentation by the speaker
12:35 – 1:00 p.m. | Q&A
Fees/Registration  
$250 for members 
$300 for non-members  
It's super easy to register! Snag your spot.  
***All registrants will receive $50 in gift certificates to local restaurants!***
Leaders Emerging to Advance Peoria (LEAP) is an 8-week leadership program designed by the Young Professionals of Greater Peoria to develop personal leadership skills and empower young professionals to become active in the community. This year we are focusing on speakers that have led and/or made significant pivots during the COVID-19 pandemic. We will connect virtually on Wednesdays with different speakers to cover a variety of hard-hitting and relevant topics for discussion, from education to customer service and building a business.
Our goal is to still give you the opportunity to interact with other Young Professionals and provide memorable experiences while still maintaining safe social distancing practices. We believe your participation and leadership in this year's L.E.A.P virtual programming will bring value and insight to the conversation. Feel free to reach out with any questions. Email Kelly Schneider at kschneider@peoriachamber.org